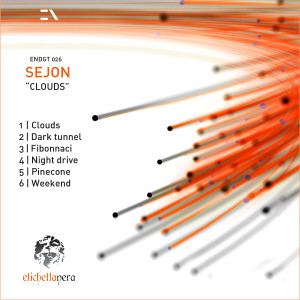 The feedback that
Sejon's
latest EP,
Clouds
, received while on the promo circuit can be seen below. Notable support from a number of producers and DJs alike, with the majority offering more than encouraging words.
---
PROMO FEEDBACK // Sejon – Clouds EP [ENDGT026]
Dez : Clouds & Nastro Azzurro beer for me!
Marc Troit : Really cool tracks, "Dark Tunnel" works for me, thanks for the music
Roberto Figus : Great ep My favorite track is Clouds ! Thanks
Tunnel : Thx for this! Listening now. Good basic tracks for layering and building into a set.
Roberta Onirika : weekend is my track. support. thanks.
Exium Hector : weekend my fav here,thanks
Francesco De Franco : Great techno EP, my fav is Clouds! C'mon Sejon!
Synus0006 : a little bit same all kicks, but good release
Luca Doobie : solid stuff, i'll try some for sure, thnx L
Plural : Nice release!
Russ Gabriel : Fibonnaci is my fave.
Adriana Lopez : Weekend for me. Thanks
Ekkohaus : Driving grooves, digging it, thanx…
George Apergis : Fibonnaci
Benoit TSUGI FR : coool ep
Richie Hawtin : downloaded for r hawtin
Pat Coefficient :
Dj Gill (differentgrooves.com) : full support!
Dasha Rush : over all fine , but not sure ..will listen again
Victor Martinez : weekend its for me thx
Nick Perry : Nice Ep Thnx
Guti : download for guti
Greg Gow : dope ep
Dr. Hoffmann : Great tracks, will play them, thanks
Maurizio Vitiello : fibonnaci and weekend are the two tools i could use in my techno set… will try!
Angel Molina : Night Drive / Pinecone for me on here, thanks.
Ivo Toscano : Dark tunnel for me!!! thx
Mario Massaro : 6 nice track pinecone is my fav !
Electric Indigo : nice release! night drive and pinecone are my favorites after first listening
Unbalance : Good techno tools, thanks!
G-Man : night drive is super cool.. full support from g-man
Dj Ralf : Dark tunnel. THX.
Marcel Dettmann : thx
Clubbing Spain.com : Fibonacci for me.
Rich Jones : I'm biased, but this is a cool ep All tracks are nice stripped back tools, good work bro x
Fabrizio Maurizi : Dark Tunnel is very nice thanx;-))
Guido Nemola : Sejon always rocks
Andreas Zead : Great
Zoe Xenia : Clouds sounds great thnx
Roger Sanchez : Downloading to try out, thanks
Roberto kai-zen : Weekend is my pick
Marco Carola : download For marco carola
Elon : good shit! thanks!
Truncate/Audio Injection : Thanks for sharing, I dig the tracks. Gonna try them out.
---
Sejon's 'Clouds EP', is currently available on Beatport and will soon appear on other digital music retailers.