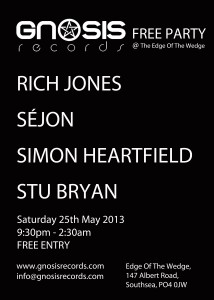 Séjon will next be appearing on UK soil, near his hometown, for a special Gnosis Records free party.
Working closely with brother and fellow techno producer, Rich Jones, the concept of pursuing an event based on the Gnosis Records sound was formulated.
Along with guests, Simon Heartfield and Stu Bryan, Séjon and Rich Jones will provide a soundtrack delving into all aspects of underground techno.
The event, which will be held in the intimate space of  The Edge of The Wedge in Southsea, will be free entry all night. More details can be found on the Resident Advisor and Facebook event pages.
For a taster of what to expect, check out Séjon's promo mix for the event using the SoundCloud widget below.